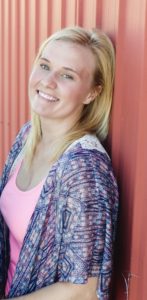 Allison Coughenour joined the board of Iowa Women in Agriculture in 2019. She grew up on a diversified farm near State Center, where her family raised cattle, hogs, corn, and soybeans. She participated in 4-H and FFA, serving as chapter vice-president during her senior year.
Her work background includes a marketing position at ALMACO, an ag manufacturing company, as well as counter sales at Heartland Coop. Currently Allison works in the real estate department at Hertz Farm Management, Real Estate and Appraisal as a real estate administrative professional.
She lives on an Iowa Center family farm where they raise corn and soybeans. She and her husband, T. J., plan to add livestock in the near future. Allison has one daughter.
Outside of work, Allison launched an in-home bakery about four years ago. She says. "I've always been a baker, following in my grandma's footsteps. Baking is in my blood—just as much as farming is."
Allison enjoys networking with other women in ag who advocate for agriculture using social media. She is passionate about being an agvocate and excited to be a part of the on-going effort to bridge the gap between producer and consumer.