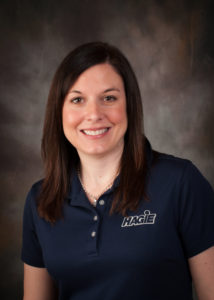 Amber Kohlhaas joined Iowa Women in Agriculture in 2016. She and her husband, Jason, currently raise corn, beans, and have a quality cow/calf and club calf operation, Kohlhaas Cattle Company, on the family farm in LuVerne, Iowa.
Amber holds a degree in agricultural business, with emphasis in sales and marketing, from Iowa State University. She is the communications manager for Hagie Manufacturing Company. In her current role, Amber stewards the brand through development and execution of comprehensive marketing and communications programs that align with marketing strategies in generating brand awareness, building product identity and meeting overall growth strategies.
Amber works directly with various like-minded partners, including Agriculture's Clean Water Alliance (ACWA) and Responsible Nutrient Management Foundation (RNMF), to positively influence the practices and perceptions of sustainable agriculture. She plays an integral role in the Iowa Environmental Leaders Recognition Luncheon, in conjunction with Iowa Department of Agriculture and Land Stewardship, which recognizes over 90 growers and agribusinesses annually for exemplary voluntary efforts as environmental leaders committed to healthy soils and improved water quality.
Prior to joining Hagie Mfg., Amber enjoyed a five year career with Successful Farming, the founding publication of Meredith Corporation, based in Des Moines, Iowa. As marketplace sales manager, she managed a sales territory and partnered with clients in providing custom agricultural multi-media marketing solutions. Amber also held a Register Media Sales Executive II position with Gannett, a leading media and marketing solutions company reaching millions of people multi-media platforms.
Amber serves on the Kossuth County Farm Bureau Board of Directors. She is also a member of the Young Professionals in Agriculture (YPIA), Ag Relations Council (ARC), Public Relations Society of America (PRSA), and has served as an Executive Board Member for the Iowa National Agri-Marketing Association (NAMA) Chapter.
A true Agvocate, Amber's strong passion for the agriculture industry can be attributed to hands on experience through remaining actively involved on her family's grain and livestock operation in Hancock County. She is committed to the development of youth in agriculture and volunteers as a 4-H and FFA judges and has served on the Kossuth County Extension committee in years past.