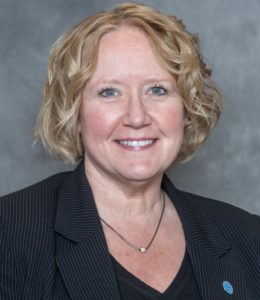 Janice Hotz joined the Board of Iowa Women in Agriculture in October 2019. She grew up in Council Bluffs, Iowa, where her family owned an acreage that infused her early years with the joys of vegetable and flower gardening, managing pasture and timber lands, bee keeping, and cattle land management.
She received her B.S. in chemical engineering from Iowa State University in 1987, and continued her education with a Masters in Business from the University of Iowa and a Masters in Agriculture from Iowa State University.
Her career has supported the agriculture business, working for Monsanto, Bayer, Dow AgriSciences, the Agricultural Division of DowDuPont, and currently for Corteva Agriscience. Her roles have included responsibilities for agricultural chemical manufacturing and seed production leadership. She has enjoyed working at many locations throughout her career, including multiple U.S. locations, global responsibilities within Europe, Latin America, and Asia, and several years leading the manufacturing team in Australia.
Janice is currently the Director of Quality for Corteva Agriscience. In this role, she is providing global leadership of all aspects of quality for the Crop Protection and Seeds business platforms, ensuring that the products and services of Corteva deliver value to producers and consumers.
Outside of work, Janice has been active in the American Seed Trade Association, the American Society of Quality, and the United Way organizations.
Janice and her husband own an acreage in Muscatine County. Her husband is retired, but they continue to manage the land and work with their neighbors on best crop management practices.