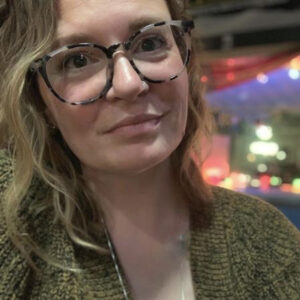 My name is Jen Wood, and I was born and raised in rural Iowa. Growing up we had a sustenance, hobby farm where I learned your hard work will pay off at the end of the day. I spent my time learning to garden and raise and process proteins, ranging from rabbits to pigs. I was involved with 4-H, FHA and FFA. My first jobs were detassel and rouging, walking the very fields I now help grow.
As an adult, my work still involves production and manufacturing in the agriculture industry. I have held positions with the UAW as a steward for eight years and financial secretary for two years. Currently, I work for Corteva Agriscience in Dysart, Iowa. I have enjoyed helping with the advancement of parent soybean production in the quality lab and being a part of a company that strives to develop sustainable agricultural systems for people all over the world. My husband also works for Corteva (Reinbeck) and we have planted our roots in Traer, Iowa where we met and attended school as kids. We are proud to raise our children in this community.
Currently I am pursuing my liberal arts degree in business with plans of transferring to UNI to complete my bachelor's in business and minor in supply chain management and logistics. Outside of work, I am involved with Iowa's chapter of NOW, a women's grassroots social welfare organization that helps to educate and support women's rights. I am involved with Women United, a sister organization to the United Way, a group of philanthropic women who help their communities through volunteerism. I also enjoy supporting the local PTA at my children's school.
In my free time I take care of my jungle of house plants, read and garden. As a family we enjoy hiking, camping, fishing, and golfing. My husband and I enjoy traveling and going to concerts with our friends.
I am excited to be involved with Iowa Women in Agriculture because planting deep roots mean the world to me. As a woman who was raised and continues to work in agriculture, I feel it is my duty to help others, from young girls to women, find a passion for this industry.