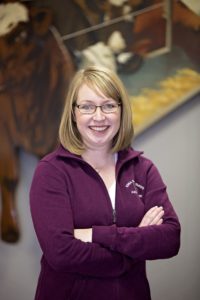 Katie grew up near Stratford, Iowa. She graduated from Iowa State University with a degree in elementary education.
She lives near Stanhope, Iowa with her husband, Bart, a third-generation turkey farmer, and their two sons and a daughter. She has been a member of Iowa Women in Agriculture since 2016.
Katie is a former teacher who works for the Iowa Cattlemen's Association as director of communications. She has written a series of nonfiction children's books, including My Family's Farm, My Family's Beef Farm, and My Family's Corn Farm.
She is active in the agriculture community in Iowa and beyond as a volunteer for Common Ground, a national network of farm women who share information on food and farming with consumers across the country. She has experience teaching and communicating about agriculture with her blog, On the Banks of Squaw Creek.
Back to All Board Members