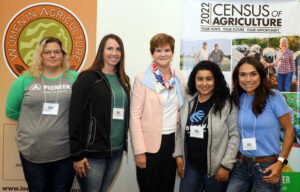 August 3, 2023
Join us for the
2023 IWIA Annual Conference
"Growing Connections" is the theme of the 17th annual Iowa Women in Agriculture Conference at the FFA Enrichment Center in Ankeny on August 3.
The 2023 conference will explore challenges posed by agriculture's current economic and environmental climate: the 2023 Farm Bill, marketing scenarios, soil and water quality initiatives, financial outlook, social media advocacy, transition/succession planning strategies, and the roles of ag women in this dynamic and growing industry.
The Conference kicks off at 8:15 a.m., and concludes at 4:30 p.m. Steph Carlson, Legislative Director/Ag Policy Advisor to Sen. Joni Ernst will navigate us through the emerging outlines of the farm bill.
Ruth McCabe, conservation agronomist, Heartland Cooperative and current Nuffield Scholar, will highlight her unique experience in growing private/public partnerships, and share how Iowa farmers can participate in new soil health and water quality programs.
Naomi Blohm, senior market advisor at Total Farm Marketing by Stewart-Peterson and an IPTV's Market to Market commentator, will offer her perspective and insights on the global and domestic economy, and the ag supply and demand outlook. She will focus on how those challenges translate into various price scenarios for ag commodities.
During the luncheon, Iowa Women in Agriculture will present its first annual Lifetime Achievement Award in Agriculture.
The afternoon's choice of breakout sessions features the following presenters:
Shayla Troendle, Farm Credit Services of America Financial Services Officer, Webster City, will present a financial overview, as well as key coping strategies.
Kristine Tidgren, Director, Iowa State University Center for Agricultural Law and Taxation and Adjunct Assistant Professor will outline how the sunset dates of key income and estate tax provisions may impact Iowa farm operations.
Brandi Buzzard Frobose will share her best strategies for engaging and growing your social media audience, based on her blog, Chronicles of a Kansas Cowgirl and Rancher.
Capstone speaker Brandi Buzzard Frobose, ag advocate, and rancher at High Bar Cattle Company in Greeley, Kansas will wrap up the 2023 conference with an inspiring and motivating message, "Standing Up for the Industry We Love."
A complimentary Welcome & Networking Reception is set for Wednesday, August 2, from 5:00 p.m. to 7:00 p.m. at Reiman Gardens in Ames. Naomi Friend from Friend's Flowers, Story City, Iowa, will share how she and her husband Andrew launched a three-acre cut flower farm in 2013.
Participants also will have a unique opportunity to attend a pre-conference tour on August 2, hosted by the Iowa State University Extension and Outreach Women in Agriculture Program. The tour begins and ends at Danfoss at 2800 E. 13th St., in Ames, with stops at Clayton Farms at 2500 N. Loop Dr., Ames, and the ISU Field Experiment Education Farm at 1928 240th St., Boone. Route maps will be provided to help participants locate individual tour sites.
Early bird registration is $55 until August 1, and $75 after that date. Registration includes the pre-conference tour, evening welcome reception, and continental breakfast, lunch, and snacks at the conference.
Attention First-time attendees: IWIA is holding a drawing on August 3 to award Early Bird registration refunds to 10 first-time conference attendees.
Register online in advance on the IWIA web site (coming soon), by mail, or from 7:15 a.m.-8:00 a.m. on the day of the conference. Room blocks have been set up at the Courtyard at Marriott-Ankeny. 2405 SE Creekview Drive and the Residence Inn, 1515 SW Main St., Ankeny. Rooms must be booked by July 12, 2023 to receive a conference rate.
Early bird registration is required for those attending the Pre-Conference Tour. For questions about the tour, contact Madeline Schultz at 515-294-0588.
For conference information, contact IWIA president Cheryl Tevis at 515-353-4425 or visit www.iowawomeninag.org for a full Conference agenda and registration details.
The premier sponsor of the 2023 Iowa Women in Agriculture Conference is Farm Credit Services of America. Additional sponsors include: Iowa Farm Bureau Federation, Iowa Bankers Association, Iowa Pork Producers Association, Iowa State University Extension and Outreach Women in Ag, Iowa Soybean Association, Iowa Cattlemen's Association, and NEW Cooperative.