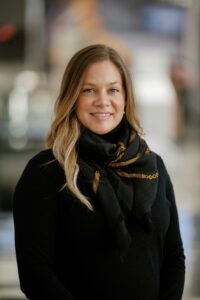 Emily Burns joined the Board of Iowa Women in Agriculture in November 2022. She grew up in Prairie City, Iowa, where her family raised purebred black angus beef cows and calves.
She received her bachelor's degree in General Studies from the University of Northern Iowa in 2001 and her Master of Human Relations degree from the University of Oklahoma in 2007. In 2001, she was commissioned as an officer in the United States Air Force and then returned to Iowa in 2007 to continue a career in transportation and logistics. In 2017, she began a career in technology and purchased a 10-acre farm in rural Runnells. The farm, Morgan Valley Station, is being developed for indigenous landscapes, fruits, nuts, fish, and flowers.
Emily is currently a Delivery Consultant at Source Allies, Inc. in Urbandale, Iowa. In this role, she provides software delivery leadership for global agricultural technology companies. Outside of work, Emily volunteers with the Technology Association of Iowa and is a member of Practical Farmers of Iowa. She also enjoys reading, country living, and time with her friends and family.