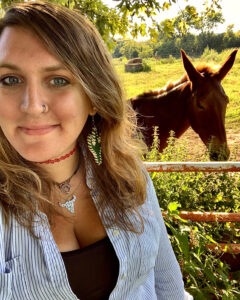 Casey grew up in Nebraska helping on her grandparents dairy farm. After graduating high school she moved to Western Nebraska and received an Associates degree in Agronomy and Animal Science from NCTA; then she went on to complete her Bachelor's degree in Agronomy and Ag-Business at OPSU. After graduation she moved to Northwest Oklahoma working in the oilfield as a soil lab tech/soil scientist for seven years. After leaving Oklahoma she moved back to Western Nebraska and worked as a recruiter for NCTA.
Since moving to Iowa in 2020 Casey has been employed at the NRCS. She lives on a small farm in Southwest Iowa with an experimental crop plot, cattle, chickens, mini donkey, dogs, cats, and a rabbit; hogs and horses sometimes make appearances around the farm as well.
Casey enjoys networking with other women in ag, traveling, photography, reading, and trying out cooking new things.